Lizzie – A New Musical – UK Premiere
---
Off West End / Regional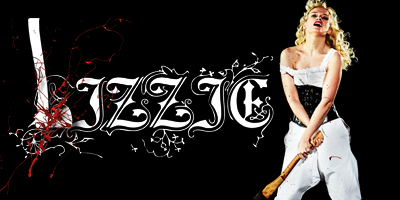 Frederica Teater in association with Aria Entertainment present
the UK premiere of
LIZZIE
The UK premiere of Lizzie, a brand new gothic rock musical came to the Greenwich Theatre in 2017 following a run at Federica Teater, Denmark.
On a sweltering summer morning in 1892, in a small New England city, a prominent businessman and his wife were axed to death in their home. Their daughter Lizzie Borden was the prime suspect. Lizzie's trial was a coast-to-coast media sensation, and her story has become an American legend.
Lizzie is four women fronting a six-piece rock band. Lizzie is rage, sex, betrayal, and bloody murder. Lizzie is American mythology set to a blistering rock score. Lizzie is a new American musical with a sound owing less to Sondheim and Andrew Lloyd-Webber than to Bikini Kill, the Runaways, and Heart.
---

Production values are through the roof in this Goth Rock Opera that lends itself more to concert performance than traditional musical.
BroadwayBaby
The talent of the 4 powerhouse women, the blistering score and beautifully simplistic setting makes it a night out to the theatre to die for!
Musical Theatre Musings
This is a rock opera, as raunchy and outrageous as any good rock opera should be. As the program so aptly describes it, Sex, Axe and Rock 'n' Roll.
West End Wilma
---
This slideshow requires JavaScript.
Production Photos: Søren Malmøse
22nd February – 12th March 2017
Greenwich Theatre, London
Music by Steven Cheslik-DeMeyer and Alan Stevens Hewitt
Lyrics by Steven Cheslik-DeMeyer and Tim Maner
Book by Tim Maner
Additional music by Tim Maner
Additional lyrics by Alan Stevens Hewitt
Based on an original concept by Alan Stevens Hewitt and Tim Maner
Orchestration by Alan Stevens Hewitt
DIRECTOR – SØREN MØLLER
CAST
LIZZIE BORDEN – BJØRG GAMST
BLEU WOODWARD – ALICE RUSSELL
EDEN ESPINOSA – EMMA I. BORDEN
JODIE JACOBS – BRIDGET SULLIVAN