From Page To Stage is dedicated to showcasing new musical work in development to an audience, to garner feedback and create new opportunities for the artistes involved.
The 2015 season at The Tristan Bates Theatre will include:
A new British musical – to headline the season and run for two weeks in a fully staged production
Showcases – parts of new musicals in development, presented with minimal staging
Rehearsed readings – 3 full musicals in development, read from scripts.
Last year the season included readings of new musicals, Merman's Apprentice, Claus and The Return Of The Soldier, which went on to have a critically acclaimed run at Jermyn Street Theatre. There were also fully produced productions of Before The Night Is Through and The Mistress Cycle. It was supported by Grant For The Arts.
Producer Katy Lipson of Aria Entertainment said today: "I am absolutely thrilled to confirm that the From Page To Stage season of new Musical Theatre will be back for a third year – and this time in the heart of the West End! Attendance at last year's event was up from 2013 and we received over 150 new pieces of Musical Theatre to choose from. We are delighted to once again be supporting writers of new Musical Theatre at different stages of their works' journey, whilst also cultivating new audiences, by allowing them to be part of these new works from the beginning.'
The 2015 Season is announced!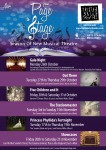 The From Page to Stage Season of New Musicals 2015
From Page To Stage is a season of new musical theatre dedicated to the showcasing of musical work in development to an audience, to garner feedback and create new opportunities for the artistes involved. Entering its third year, From Page To Stage is now in a central London location at the Tristan Bates Theatre and building on the successes of the seasons that came before it. Almost 80 shows were submitted for the season this year, with the selected shows below.
Opening Performance – GALA SHOWCASE
Monday 26th October (19.30)

Fully-staged Reading – 'Out There'
Tuesday 27th – Thursday 29th October (19:30)
Tickets – £12
Synopsis: Newman Carter, a world famous astronaut, mysteriously disappears in 1969. Forty years later, a troubled young man, turns up on his doorstep with a letter, which changes everything, for everyone…
Out There is an original tale about families, love, loss, hope and never giving up on your dream.
From, Elliot Davis and James Bourne, the writing team that brought you Loserville, Out There is a story for every generation.
Out There…dreams don't age with age…
Elliot Davis and James Bourne (Lyrics, Music and Book)

Fully-staged  Reading – 'Five Children & IT'
Friday 30th & Saturday 31st October
(Fri 19:30, Sat 2:30 and 19:30)
Tickets – £12
Synopsis: When exploring the land around their new country house, Cyril, Anthea, Robert, Jane and 'The Lamb' come across a magical and extremely grumpy Psammead, or 'sand-fairy'. He promises to grant them any wish, but the children soon discover that simple wishes aren't always so straightforward.  Mayhem ensues, until the children must grant the Psammead a wish of his own…
Eamonn O'Dwyer (Music & Lyrics)
Helen Watts (Book)

Headline Musical – 'The Stationmaster'
Tuesday 3rd – Sunday 15th November
(Tues-Fri 19:30, Sat 2:30 and 19:30, Sun 2:30)
Tickets – £18/16
Synopsis: It's 1958 and we're in the town of Kirby in the Lake District. Railway stationmaster Thomas Price is the pillar of the local community.
Until a young woman arrives on the platform and distracts him from his duties. Thomas forgets to set a crucial signal and a tragic train crash occurs. The guilty pair decide to cover up their mistake. But as ghosts start to appear to them in the town, things begin to unravel!
Tim Connor (Music and Lyrics)
Susannah Pearse (Book)

Fully-staged Reading – 'Princess Phyllida's Fortnight'
Tuesday 17th – Thursday 19th November (19:30)
Tickets – £12
Synopsis: Everyone thinks Phyllida lives inside a fairytale, but the pampered Bavarian princess is planning an escape.
Spurning a handsome prince, Phyllida absconds with her tutor, Fritzing. They settle in Somerset, where Phyllida wreaks havoc by behaving rather too much like a princess! Then a certain jilted prince turns up…
Princess Phyllida's Fortnight is a ripping yarn of derring-do, heady romance and Latin grammar.
Tim Sanders (Book and Lyrics)
Charles Miller (Music)

Showcases
Friday 20th – Saturday 21st November
(Friday 19:30, Saturday 2:30 and 19:30)
Tickets – £15
The Showcase performances will highlight four different musicals, each with a 25 minute version of the show. Pieces included are:
Lord Arthur Savile's Crime
With a fortnight until his wedding, Lord Arthur Savile attends a party where a palm reader foretells a horrifying event in his future: he will commit murder. Devastated, Arthur fears a happy marriage is now impossible. He resolves he cannot marry – at least, not until he's killed someone.
Beverly Ward (Music and Lyrics)
Kirby Ward (Book)
Cousins Grimm
Jackie and Leon, The Cousins Grimm, adapt some of their ancestors' lesser known stories into a musical adding a queer sensibility to them. Their contemporary twists on the stories represent their combined subconscious and reflect their own personal lives. When Jacob Grimm appears to advise the writing team, something very odd happens…
Michael Biello (Lyrics) and Dan Martin (Music)
Ted Sod (Book)
This is Also England
1957, West London. Prime Minister Harold Macmillian declares that 'You've Never Had it So Good' but for a diverse range of recently arrived immigrants, it doesn't feel like that. 20 year old Miriam Gambles dreams of returning to Antigua, but ends up building a different kind of home in London where she learns that you don't have to change yourself to fit in.
Joseph Finlay (Music)
Raphael Smith (Lyrics and Book)
Just a Man
Is the true-life musical about Walter Tull, the first mixed-race British footballer in the top English division and the first mixed-race combat officer in the British Army.
With songs by Johnny Whetstone and Mick Bass (from 'The Look' who had a number six single with "I Am The Beat").
Johnny Whetstone & Mick Bass (Music & Lyrics)
Guy James (Book)
//
Visit: www.frompage2stage.com for more information @frompage2stage @AriaEnts