From Page To Stage to return in 2014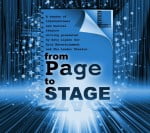 FROM PAGE TO STAGE season of new musical theatre to return in 2014
Katy Lipson of Aria Entertainment and Robert McWhir are thrilled to announce that 'From Page To Stage' – a season of new musical theatre writing at The Landor Theatre, London will return for a second year in early 2014.
A hugely successful 5 week season has just closed at the venue, showcasing over 20 nights of original musical theatre in a variety of styles.
From Page To Stage's producers will announce details shortly of how writers can get involved in next year's season.